Home
»
Posts made in April, 2018
Posted by on Apr 19, 2018 in Buying a Home, Local Experts, Mortgage Info, New Construction, Real Estate, Selling a Home | 0 comments
Some homeowners have recently done a "cash out" refinance and have taken a portion of their increased equity from their house. Others have sold their homes and purchased more expensive homes with larger mortgages. At the same time, first-time buyers have become homeowners and now have mortgage payments for the first time.
These developments have caused concern that families might be reaching unsustainable levels of mortgage debt. Some are worried that we may be repeating a behavior that helped precipitate the housing crash ten years ago.
Today, we want to assure everyone that this is not the case. Here is a graph created from data released by the Federal Reserve Board which shows the Household Debt Service Ratio for mortgages as a percentage of disposable personal income. The ratio is the total quarterly required mortgage payments divided by total quarterly disposable personal income. In other words, the percentage of spendable income people are using to pay their mortgage.
Today's ratio of 4.44% is nowhere near the ratio of 7.21% during the peak of the housing bubble and is instead at the lowest rate since 1980 (4.38%).
Bill McBride of Calculated Risk recently commented on the ratio:
"The Debt Service Ratio for mortgages is near the low for the last 38 years. This ratio increased rapidly during the housing bubble and continued to increase until 2007. With falling interest rates, and less mortgage debt, the mortgage ratio has declined significantly."
Bottom Line
Many families paid a heavy price because of questionable practices that led to last decade's housing crash. It seems the American people have learned a lesson and are not repeating that same behavior regarding their mortgage debt.
Read more
Posted by on Apr 4, 2018 in Buying a Home, Local Experts, Mortgage Info, Real Estate, Selling a Home | 0 comments
According to a new study from Lending Tree, Americans who have filed for bankruptcy may be able to rebuild enough credit to qualify for a home loan in as little as 2-3 years.
This is in stark contrast to the belief that many have that they need to wait 7-10 years for their bankruptcies to clear from their credit reports before attempting to apply for either a mortgage or a personal or auto loan.
The study analyzed over one million loan applications for mortgages, personal, and auto loans and compared borrowers who had a bankruptcy on their credit report vs. those who did not to find out the "Cost of Bankruptcy."
The study found that 43.2% of Americans who filed bankruptcy were able to repair their credit back to a 640 FICO® Score in less than a year. The percentage of those who achieved a 640 FICO® Score increased to nearly 75% after 5 years. The full breakdown of the findings was used to create the chart below.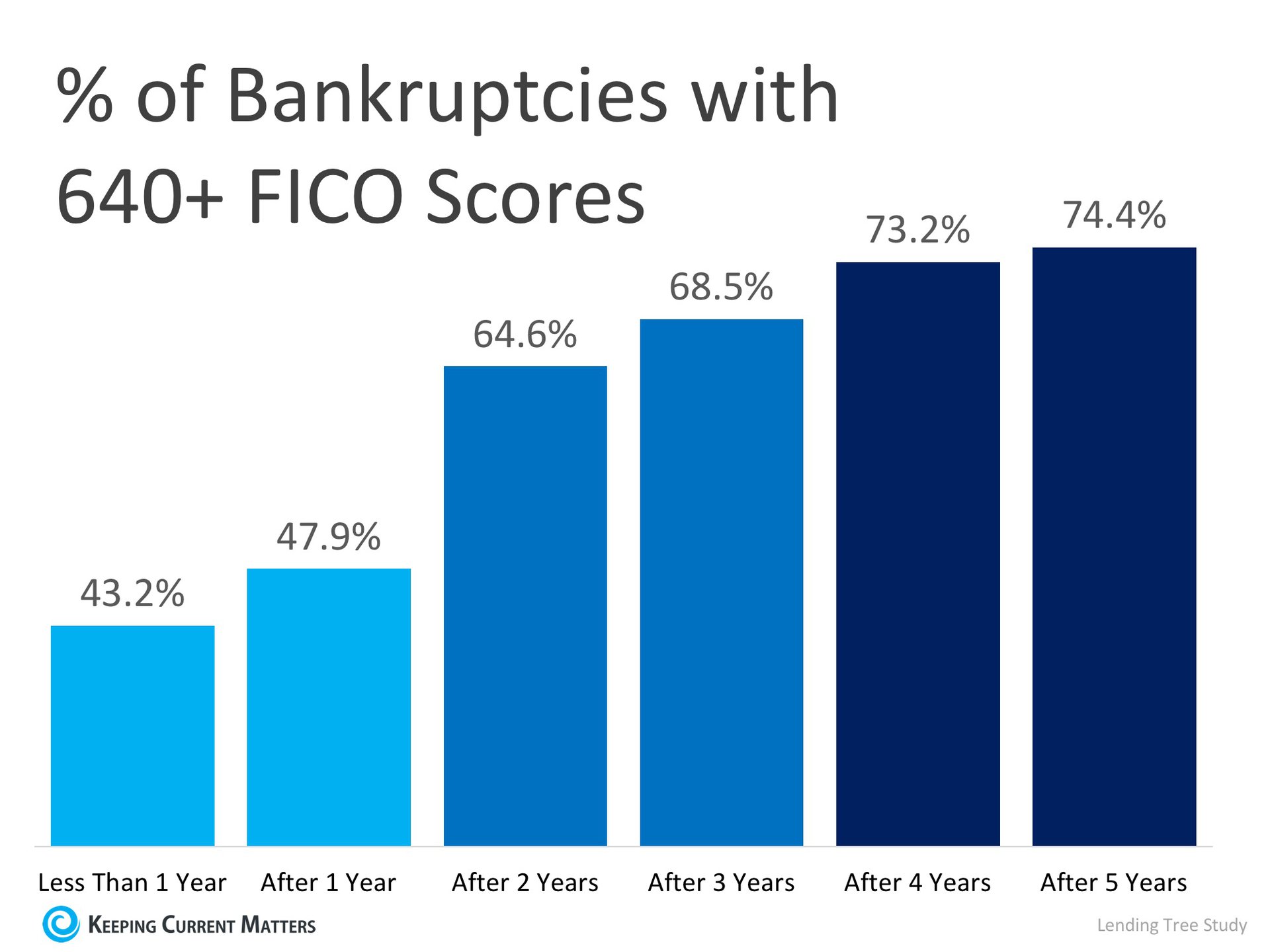 Americans who were able to repair their credit scores to a range of 720-739 within three years of filing were able to obtain the same financing options as those who had never filed bankruptcy.
According to Ellie Mae's latest Origination Insights Report, 53.5% of those who were approved for a home loan had FICO® Scores between 600-749 last month. This is great news for Americans who are looking to re-enter the housing market.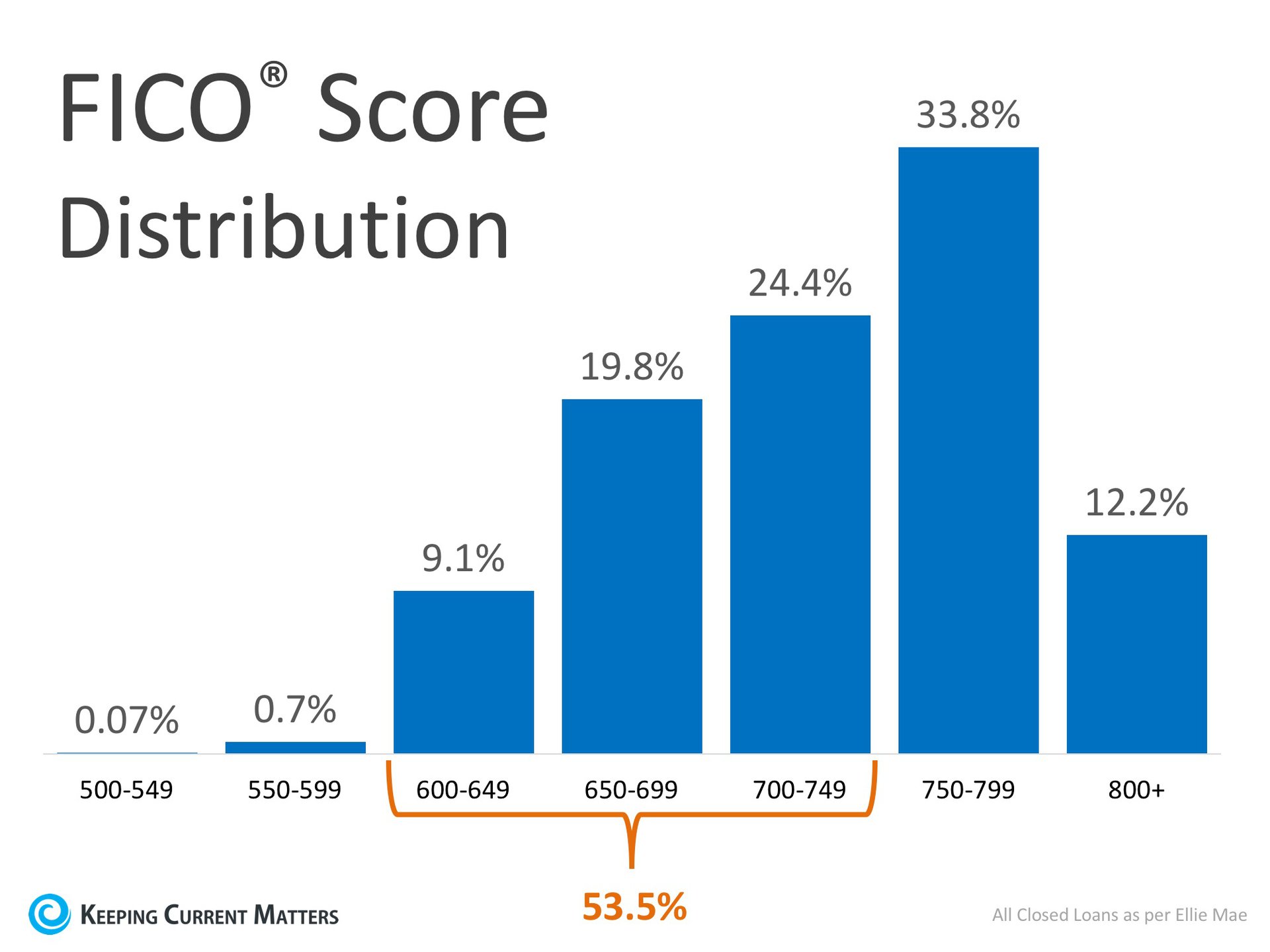 Raj Patel, Lending Tree's Director of Credit Restoration & Debt-Related Services had this to say:
"People may think that filing a bankruptcy would put you out of the loan market for seven to ten years, but this study shows that it is possible to rebuild your credit to a good credit quality."

"LendingTree's research found that very few bankruptcy filers have a harder time [obtaining a mortgage] than those who have not filed for bankruptcy."
Bottom Line
If you are one of the millions of Americans who has filed for bankruptcy and think that you have to wait 7-10 years to make your dream of returning to home ownership a reality, meet with a local real estate professional who can help you find out if you qualify now.
Read more